Thirty people gathered at Greenwich Picturehouse on Sunday 22nd September to watch a premiére screening of Dirty: The Fight for Clean Air, a new short film from local filmmaker Mary Waireri.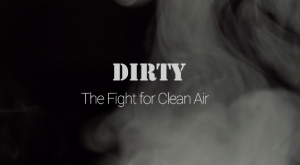 The film explores the development of cross-party Stop the Silvertown Tunnel Coalition (co-ordinated by Greenwich and Bexley Green Party Campaigns Officer Victoria Rance) in the light of London's air pollution crisis.
Silvertown Tunnel will make the climate crisis worse
The Silvertown Tunnel programme has had no proper review since City Hall's declaration of climate emergency and TfL's analysis contained deeply inadequate environmental cost-benefit analysis. Greenwich and Bexley Green Party has been lobbying for Mayor Sadiq Khan to scrap the plans.
There is strong evidence that road building encourages increased traffic and in this case even if Silvertown Tunnel were to relieve Blackwall Tunnel as a bottleneck, which is not at all guaranteed, it would simply push the problem further down the southbound A2 and A102 and into local neighbourhood streets.
As we described in July, the case for Silvertown Tunnel has been repeatedly demolished by figures from across the political spectrum as well as prominent transport experts.
Air pollution ruins quality of life
The screening also featured a short talk from the Green Party's Lewisham and Greenwich London Assembly candidate, Rosamund Kissi-Debrah.
Rosamund, who is chair of the Ella Roberta Foundation which campaigns to raise awareness of the link between asthma and air pollution, spoke eloquently about the lack of joined-up thinking in political planning for urban infrastructure and public health.
Arguing that people too often fail to make the connection between the cleanliness of the air and the incidence of childhood asthma, Ros described the nightmare of living with a child whose asthma would cause her to wheeze uncontrollably with inhalers providing no relief.
Her description was echoed by Karen Janody, curator at the Royal Brompton and Harefield NHS Foundation Trust and coordinator of Extinction Rebellion Greenwich (XR Greenwich), who described children with their quality of life destroyed by having to walk around with air tanks and respiratory cannulas just to help them breathe.
Greens walk the walk on cutting air pollution
Last year, there were over 4000 hospital admissions for childhood asthma in London alone, with 1000 of these coinciding with spikes in pollution.
While many Labour and Tory councils have talked more openly about climate change and air pollution in recent years, their actions speak louder than words.
Greenwich Council – which is controlled by Labour – continues to support the construction of Silvertown Tunnel.
Continued backing for Silvertown Tunnel is inconsistent with addressing the climate emergency. Failing to back radical public transport extensions and the first-class cycling and walking infrastructures proposed by London Assembly members Siân Berry and Caroline Russell, they are failing all Londoners, adults and children alike.
The Green Party is the only party that not only talks about the climate emergency, but has the radical policies to address it. We are making electoral gains as more voters express their support for our programme. We cannot wait to take action on our environment.