At an event at St. Peter's Church on Thursday 11th July, a panel of transportation and climate experts lined up to urge residents not to give up the fight to get the Silvertown Tunnel construction cancelled.
Around 80 local residents, councillors and union representatives turned out to hear a meeting arranged by Stop the Silvertown Tunnel Coalition – in partnership with Extinction Rebellion Greenwich, Greenwich Living Streets and Speak Out Woolwich – on how the proposed tunnel will affect them.
Their message was crystal clear – Silvertown Tunnel won't alleviate the congestion and pollution at the Blackwall Tunnel, but it will lock us into last-century infrastructure that exacerbates the climate emergency.
The Mayor should direct the huge investment towards accelerating public transport options in south-east London to enable residents to switch away from expensive private car use.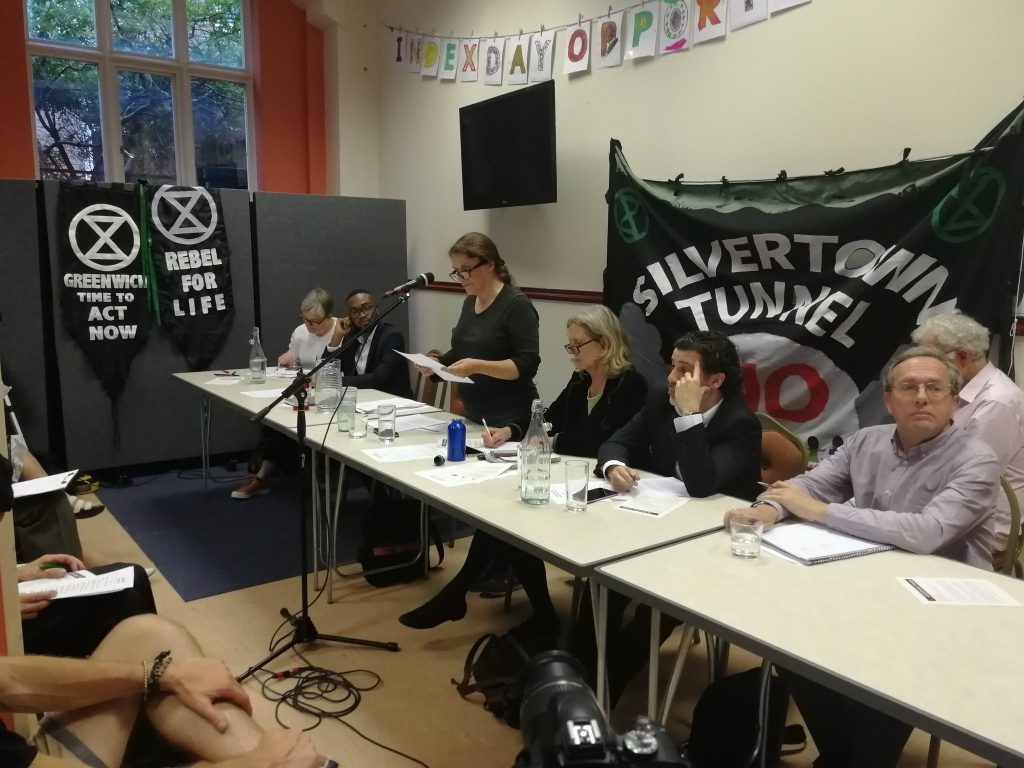 Greens kick off the Silvertown Tunnel coalition
After six years of opposition had left the original No to Silvertown Tunnel group exhausted and deflated, Greenwich and Bexley Green member Victoria Rance decided to take on the baton and renew the campaign.
In the subsequent months, Greenwich and Bexley Green Party has worked behind the scenes to create and organise the cross-party Stop the Silvertown Tunnel Coalition.
This meeting was the latest in a string of events we've arranged, including a demonstration at City Hall, asking public questions at the local council meetings and gaining over a dozen signatures from local school headteachers opposing the scheme.
We are pleased to see that the campaign to scrap Silvertown Tunnel appears now to be reaching a critical mass in terms of cross-party input with more and more contributors from all parties on this vital issue.
Actions and initiative from local members are how the Green Party creates impact in Greenwich and Bexley and build solid foundations for future electoral success.
What the speakers said
The meeting ran for over 2 hours and detailed a huge number of reasons why Silvertown Tunnel is a dirty short-term fix for a deep transport problem.
None of the proposed benefits like reducing congestion or air pollution actually stand up once you look into it and actually it will make things much worse (Jenny Bates)
The best way to do reduce emissions balancing use with social justice is a distance-based smart road charging scheme, which is under consideration. But if road charging comes in, the case for the tunnel – which is primarily based on fictitious congestion reduction – just disappears. And then repayment from tolls becomes difficult, so TfL will be left with a massive debt. What's more, the cost-benefit analysis is already deeply flawed since it does not factor in the environmental impact of air pollution at all (Victoria Rance)
The only reason this is going ahead is that the Mayor is seduced by getting something for nothing through a PFI scheme. This is a category A mistake in transport policy (Christian Wolmar)
New river crossings are needed, but these should be for public transport, pedestrians and cyclists rather than more motor traffic that will exacerbate pollution (Caroline Pidgeon AM)
Silvertown Tunnel only enhances the difficulties for local residents to get around locally without needing to have a private car and further entrenches road-first communities (Caroline Russell AM)
Global heating means car-based transportation has to become a thing of the past. Governments must break the vicious cycle of building more roads, which encourages more cars, which encourages more roads – and the timing must be years, not decades (Simon Pirani)
For a child, it's simple. Our society's emissions are killing us, so we have to stop them. It will cost us to put in public transport infrastructure rather than roads, maybe even more. But as Bill Nye says, "nothing's free, you idiots" (Daisy Wyatt)
Toxic air is a killer of the poorest in our borough, who don't even drive cars. When we are learning more every day about how damaging this is to our health, why are we building infrastructure for even more HGVs to pollute our streets? (Cllr. Rohit Dasgupta)
The idea that electric cars are the answer is nonsense. They are the new diesel car fallacy. 50% of emissions are particulate matter (PM) rather than exhaust fumes – and particulate matter kills more people than nitrogen dioxide from diesel (Izzy Hickmet)
We congratulate the speakers on sounding the alarm over this terrible, backwards-looking project.
In particular, we applaud the efforts and energy of our Green member Victoria Rance, chair of the Stop the Silvertown Coalition, whose personal drive and commitment has been instrumental in gathering together the collective efforts of the panel and the public at large. From organising events, researching the business case, reaching out to experts, writing public letters, gathering signatures and behind-the-scenes lobbying, this  show of strength and defiance wouldn't have happened without her.
Thank you Victoria!
Are Greenwich councillors wobbling on the decision to back Silvertown Tunnel?
Of the London borough councils that will be most affected by the proposed Silvertown Tunnel, only Greenwich and Tower Hamlets offer support, whilst Hackney, Newham and Lewisham are united in opposition.
Defending Greenwich Council's backing of the proposed tunnel, Cllr. David Gardner talked up the Labour administration's efforts in declaring a climate emergency and achieving a modest "modal shift" away from cars in the borough.
He reiterated that the council want to see investment in public transport alongside the new road. This approach was derided by transport expert Christian Wolmar as "thinking we can somehow have a pick and mix approach when governments should be making less space for cars".
Appearing somewhat uncomfortable with the party line towards the end of the meeting, Cllr. Gardner resorted to arguing that it is too late for Greenwich Council to do anything and that lobbying efforts ought to be directed at Sadiq Khan and the national government.
It is not too late. It would be hugely symbolic for the borough councils to turn against City Hall. This would bring enormous political pressure to the Mayor to reconsider. Greenwich Council must reconsider its support.
Green members – Take action!
It is thought that the Silvertown Tunnel contracts will be signed in August, making action to try to halt or suspend proceedings an urgent imperative for us all.
Please keep an eye out for communications and action regarding
letter template for writing to City Hall and Greenwich Council to oppose signing the contract
leafleting opportunities to make Peninsula residents aware of the proposed tunnel
We will be in touch.
---
Attendees
The panel comprised Victoria Rance (Chair, Stop the Silvertown Tunnel Coalition), Caroline Russell AM,  (Green Group, London Assembly), Cllr. David Gardner (Greenwich Council), Jenny Bates (Friends of the Earth), Izzy Hickmet (Vice-Chair, Greenwich Momentum), Simon Pirani (Author of Burning Up: A Global History of Fossil Fuel Consumption and resident of Plumstead), Daisy Wyatt (Extinction Rebellion Youth) and Christian Wolmar (Award-winning writer and broadcaster specialising in transport). Statements were read out on behalf of Caroline Pidgeon AM (Liberal Democrat, London Assembly Member) and Cllr. Rohit Dasgupta (Newham Council).
Speak Out Woolwich invited pro-tunnelling political representatives to the meeting, but the invitation was declined by Sadiq Khan (Mayor of London), Heidi Alexander (Deputy Mayor, Transport) and Len Duvall (London Assembly Member for Greenwich and Lewisham, Leader of the Labour group).
Links