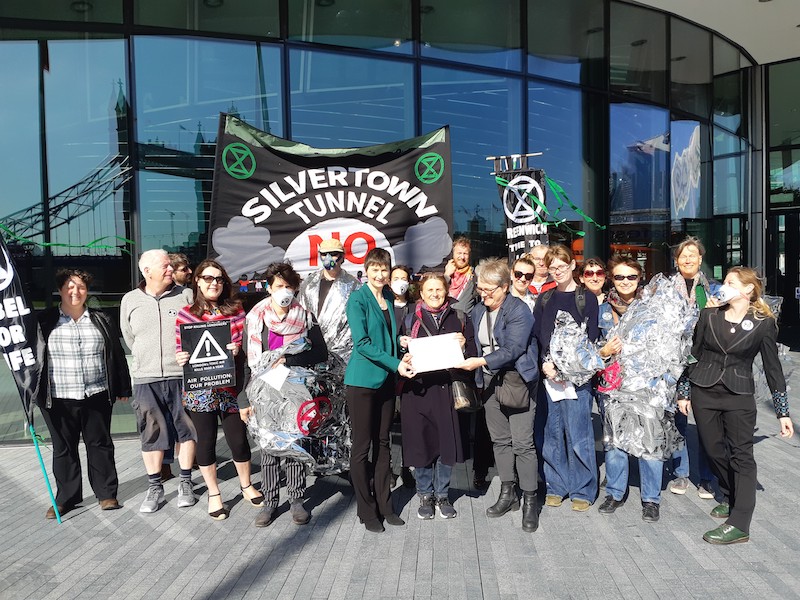 Greenwich and Bexley Green Party has signed an open letter to the Mayor of London and the Deputy Mayor of London for Transport calling for plans to build a new road tunnel between Newham and Greenwich to be scrapped.
The Stop the Silvertown Tunnel coalition is calling for Sadiq Khan to show he means what he says about London's climate emergency by issuing the urgent cancellation of the Silvertown Tunnel construction.
The coalition comprises representatives of the local branches of The Green Party, Extinction Rebellion, Momentum, Liberal Democrats, the headteachers of 16 local schools including Invicta Primary (Blackheath/Deptford), Thomas Tallis (Kidbrooke), Plumstead Manor, Abbey Wood Nursery and Gordon Primary (Eltham), as well as concerned local parents and clear air campaigners.
We oppose increases in air pollution
Greenwich and Bexley Green Party (GBGP) oppose the new Silvertown Tunnel on the basis that the scientific evidence which shows that air pollution is a contributor to health problems is unassailable.
Combined with the abundant empirical data which show that new roads and tunnels serve only to draw increased levels of polluting transport into the areas in which they are introduced, there is no case for sponsoring public works which increase risks to public health.
Public recognition of the problem of air pollution has been growing significantly in recent years thanks to the relentless efforts of people such as our 2020 candidate for Lewisham and Greenwich for the London Assembly, Rosamund Adoo Kissi-Debrah, who has campaigned tirelessly with the Ella Roberta Foundation.
Access to clean air is a right
Did you know that air quality is searched now and recorded by some estate agents when people want to move houses? For the Green Party, access to clean air is a matter of social justice. It is the less affluent who must live in cheaper housing next to major arterial roads who suffer the most and have the least power to change their situation. There is an increasing body of research linking poverty, air pollution and low birth weights.
Greenwich and Bexley Green Party are committed to policies which improve local air quality through cuts in pollution and achieve the global imperative to reduce the use of fossil fuels.
What next for the campaign?
The last remaining council to back Silvertown Tunnel is our very own Royal Borough of Greenwich Council. While some cabinet members have publicly been expressing doubts about the project, in private they are waving it through.
Greenwich and Bexley Green Party will continue to apply pressure upon the council to get the plan scrapped. But we need your help. Please take action by gaining signatures for our petition.
Take Action: Sign our petition
Greenwich and Bexley Green Party will hand in a petition to Greenwich Council to revoke its support of Silvertown Tunnel at the next full council meeting on Wednesday June 26th 2019.
Please support this urgent action by:
Printing out the following letter
Adding the names of your ward councillors
Collecting signatures from your neighbourhood
Scanning the result and sending it to coordinator@greenwich.greenparty.org.uk
Full text of Stop the Silvertown Tunnel Coalition's letter to the Mayor of London
Dear Sadiq Khan and Heidi Alexander,
We applaud your introduction of the Ultra Low Emission Zone and your action on concerns about pollution and climate change.
However, many Greenwich residents have been unhappy with the planned Silvertown Tunnel for years, and with the new awareness of the Climate Emergency this unhappiness and indeed anger about the lack of response to our concerns is spreading quickly.
We feel that this scheme should be delayed and re-evaluated in the light of the current climate emergency.
Our arguments are these:
The new Tunnel has a dedicated HGV lane which fits larger vehicles, drawing them through Greenwich along major roads next to over 40 schools and nurseries where 16,000 children play inside and out. Our roads are already illegally polluted and we need to prevent motor traffic not encourage it. Asthma and other serious health problems are known to by caused pollution and lives are shortened.
Flooding in Greenwich is a concern with climate change. Building a tunnel on a floodplain where there is only one flood defence and now a huge amount of residential properties seems misguided. One storm surge combined with high tides, large amounts of rainfall leading to a high water table is all that is needed to cause a massive flood and even a possible breach of the flood barrier defence.
London-wide road pricing, which will likely happen in the near future, would remove most of the congestion at Blackwall Tunnel. And the business / freight lobby argument for it will then disappear.
If we build the tunnel, and a future Mayor doesn't increase the toll fast enough, or removes it, then congestion and pollution in Greenwich, Lewisham and Newham actually gets much worse.
Even before London-wide charging, most of the congestion benefits of the scheme can be achieved by just tolling Blackwall so that traffic turns up at less crowded times - without spending £1bn and emitting 153,000 tonnes of CO2 actually building the tunnel. We should at least experiment with this before building the scheme.
In conclusion we feel that the building the new Silvertown Tunnel is a very expensive mistake at this time. We now know that motor traffic is detrimental to the health of the population born and unborn, and that to ensure public health and climate stability we need to sharply reduce car use across London - so building a tunnel that can never be fully used because it's a potential pollution bomb is a massive waste of public money. We are in a climate emergency, and so we would suggest that instead of spending £1bn of Londoners' money on a new road tunnel at Silvertown, we should invest in priorities such as a smart road pricing scheme across London, new safe bike infrastructure, and electrifying the bus fleet.
Yours sincerely,
Stop the Silvertown Tunnel Coalition
Greenwich and Bexley Green Party, [Other signatories to the 'Stop the Silvertown Tunnel Coalition']