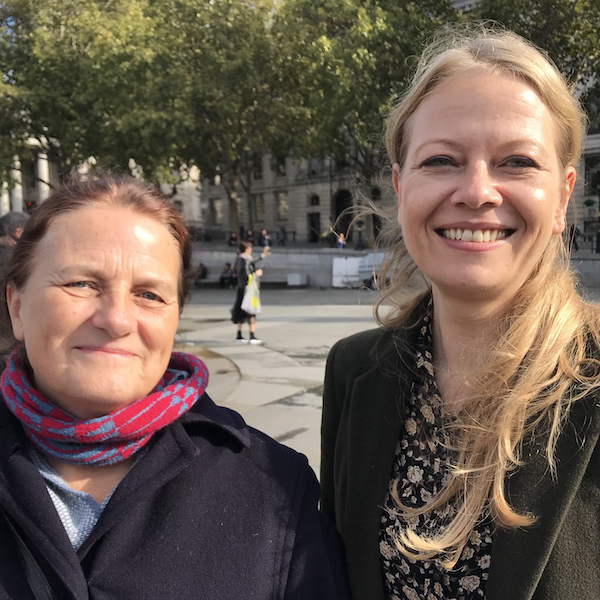 Pictured: Victoria Rance with Green Party co-leader Siân Berry
This is such a pivotal moment in politics.
Ten years ago while other parties were bailing out the banks, we were building a bridge to the future.
As the whole financial system collapsed, the Green Party's very own Caroline Lucas was one of a small group of people who wrote a road map into something so much better.
A Green New Deal.
We had a chance then to make a radical break from the past and shape a fairer future together.
But instead those that caused the crisis were bailed out by world leaders and let off the hook. We went back to business as usual.
The rich have become richer while austerity has cruelly punished the poorest.
And through all this we have pushed our planet to dangerous levels of overheating. We ignored the warning signs that things had to change.
Our house is on fire and we cannot ignore the alarm any longer.
We cannot continue with business as usual and push ahead with news roads, coal mines and airport expansions.
As our children, scientists and David Attenborough are telling us: Everything needs to change.
And so right now the Green New Deal is an idea whose time has come.
I am so proud of The Green Party manifesto which aims to decarbonise every sector of the British economy by 2030 while delivering social justice across Britain.
It is the most ambitious Green New Deal anywhere in the world.
While the other parties are catching up, we are racing ahead into the distance and reaching new horizons. We are the ground breakers. We are the innovators and the originators.
The Green Party are ready to Remain and to transform everything.
🍃 Every Green vote is a vote to keep the Climate Emergency on the political agenda
🍃 Every Green vote is a call to action on climate chaos
🍃 Every Green vote will help make the Green New Deal happen