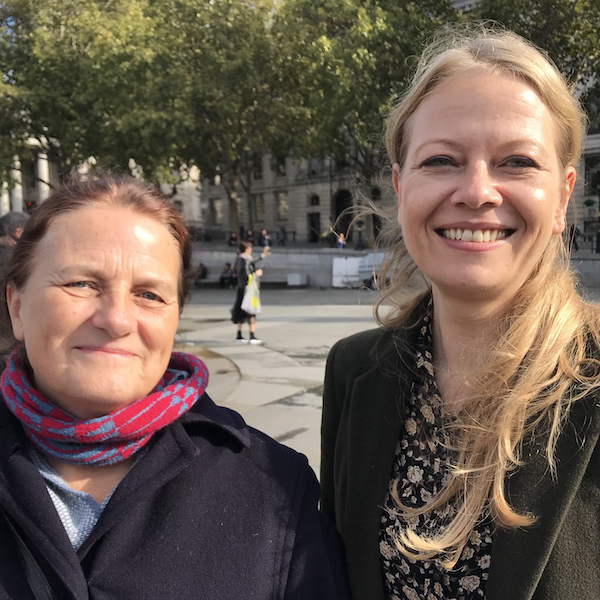 Pictured: Victoria Rance with Green Party co-leader Siân Berry
I am proudly standing in Greenwich and Woolwich for the Green Party. I have lived in Greenwich since 1992. I am an artist and teacher. I have taught both art and English to refugees and asylum seekers in the community since moving to Charlton. My husband grew up here, my three children have all attended local schools and my youngest is still at Thomas Tallis. I care deeply about this community and the future for children in it.
And I care about the air we all breathe.
I initiated the campaign against the Toxic Cruise Terminal within Greenwich Green Party when I noticed it was returning to planning. I attended the High Court in support of the action by residents, and continued to support the campaign until finally we won.
This year I have worked tirelessly leading the Stop the Silvertown Tunnel Coalition, following on from the previous campaigners in trying to persuade Sadiq Khan to change his mind.
I worked alongside Extinction Rebellion, local parties and community groups, led many actions and gained wide press coverage bringing it to national attention. The coalition persuaded the local Labour groups to stop supporting the Tunnel. And although the Tunnel contracts were signed last week the fight continues.
I am lobbying for a biodiversity officer in the borough to protect our precious local wildlife and existing mature trees. And to ensure that new developments truly fulfil environmental criteria, providing green spaces with correct native planting for the health of both humans and the natural environment.
I am so proud of the Green Party manifesto which deals with the climate emergency we face head on.
It is the most ambitious Green New Deal anywhere in the world.
We aim to decarbonise every sector of the British economy by 2030.
We are facing an existential crisis as our children are desperately telling us.
We need radical targets to halt runaway climate change.
And this is a social justice issue. The poorest are being hit first by fossil fuel pollution and climate chaos.
We CAN make climate action work positively for our society by investing in new Green jobs, and a healthier and fairer future.
And every Green vote is a vote for the Green New Deal.